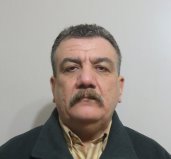 Professional fine art painter and art instructor
Multiple medium painter

He has many solo and group shows in and outside of Canada

He paints landscape & portraits in an impressionism style

Interviewed by different TV channels and press media

Second award in sidewalk art competition in Kitchener ON 1999
EDUCATION
Academy of English, Nor Quest College 2010

Bachelor's Degree in Fine Arts, Belford University 2008

Grade 12 English St. Louis Adult Learning Center, Ontario 2002

Agriculture Science Degree, Erbil University 1988
TEACHING
He has taught painting & sketching in many Art schools since 1999. Ex: City Arts Center, Northgate Lions Seniors Recreation Association, Central Seniors Society in Alberta , Wellington Center for Continuing Education in Guelph and at the KW art society in Ontario .
Exhibitions
Kitchener sidewalk show, set up by municipality of Kitchener ON, 1999, awarded second prize.

Teaching painting and participating shows at waterloo community art Centre, at Button Factory Arts 2002. 519 886- 4577.

Represented by Westmount gallery Toronto On, Eldon gallery Waterloo On and Core Gallery Kitchener On 2006.

Oil color paintings show, Greenhouse salon international Gallery Texas US 2008. 210 828- 6491.

Harcourt house, Edmonton AB, 2010. 780 426-4180.

AGSA (art gallery of St. Albert) AB 2013. 780 460- 9537.

Teaching and showing at Lions Senior Recreation
Centre, Edmonton AB 780 496-6969
The Main Gallery, Lacombe AB, 2015, 402 782-3402.

Member of VASA (visual Arts Studio Association of St. Albert), I will be participating in their upcoming exhibitions.

Member of California art club, California US. I will participate the member's shows.

Showing on painters online UK , and have been chosen by the editors of the leisure painter magazine and the artist magazine as artist of the issue , 2016

Showing on artists.com online shows.
International plein air competition , 2015
Linus Galley Pasadena CA show and competition , 2017 , 310 491-0269
Portfolio is available upon request